It's been quiet here at Blue Velvet Chair the past several days. I took a break from computers and took my family to Copenhagen, Denmark for a fun weekend visit and some Halloween themed atmosphere at the local Tivoli amusement park. Hop over to
The Accidental Swede
if you'd like to have a peek at our weekend fun.
Now that we're back, and the final countdown is on for Halloween, I want to share some of my favorite pumpkins from blogland. I don't even have all of my own Halloween decorations up (remember my
previous post about always running late
?). But as they say, it ain't over 'till it's over - so let the final push of inspiration begin!
I ran across this Louis Vuitton pumpkin in an online contest. It was one of my favorites, and you can visit
Refinery 29
to have a look and vote for your favorite.
I also loved this glittery little lady (from the same contest). She's going to stay on my 'must try' for next year.
Junkman Jack here (as I've dubbed him) is just too cute for words. He comes to us from the children's art studio
Small Hands Big Art
in the United States.
This classy pumpkin stack was used at a
lovely fall-themed wedding
. And my "alter-ego traditional interior design side" would love to have this on my front steps right now!
These next pumpkins (via
Gordon Gossip
) make my list because I have a real weakness for swirls.
Shannon at Madigan Made
created these beauties while she was waiting for the hurricane to pass nearly two months ago. Not only is she talented, but she's obviously much more organized for holiday decorations than I!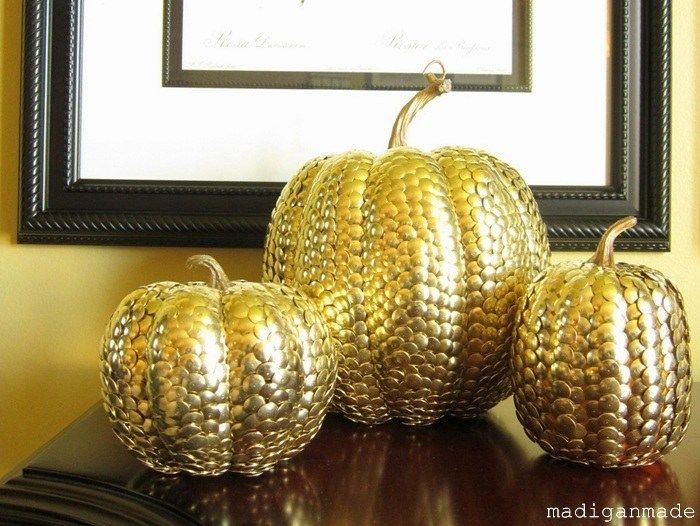 I like these
black cats from Sunset Magazine
. Their high gloss style makes me smile.
This one? Swirls...and wire! Thanks for the share,
Curbly
!
And finally, I just think this last little display from
Ladies Home Journal
(via
Be Different Act Normal
) is so sweet and original with the little polka dot mini pumpkins atop candlesticks.
So there you have it. My list of favorites for 2011. And as I said before...it ain't over 'till it's over! So I'm wondering...do you have all of your Halloween decorations up?
Until next time...
Mike